Is mental prevention strategy solution to high costs and waiting lists in mental health care?
Soesterberg, March 15, 2023 | Burnout, stress and depression are the leading occupational diseases in the Netherlands. A sick employee affects the working atmosphere and costs an employer an average of €250 per day. SpecialistenNet, a national network of psychologists and coaches, is helping to solve this social problem. Through an online screening the company measures how (mentally) healthy the employee and the organization are. The family business from Soesterberg thus offers a practical supplement to the mandatory Risk Inventory & Evaluation that benefits the employer, the employee and society.
​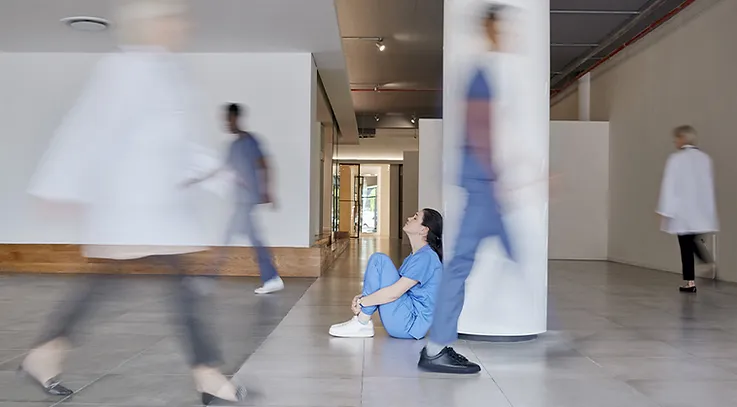 Photo: SpecialistsNet, stock photo
​
Influence employer on mental health
That healthy and motivated employees make for greater job satisfaction, less absenteeism, better cooperation and higher productivity is well known. From research revealed that 1.3 million workers in the Netherlands suffer from burnout symptoms. This has even led to 2.8 billion euros in absenteeism costs in 2021 against work stress alone. What is less well known is that these days employers are obliged to deal with this themselves. Employees who pose a high absenteeism risk and are detected early can get started with a form of therapy, often one session is enough. These employees are found to score significantly better on mental health and resilience a year later than those who did not attend therapy. A large group of absentee workers are symptom-free within three months and are able to remain healthy at work. Employers can and should - as good employers - have a positive impact on the mental health of their employees in both the short and longer term.


Late intervention drives up absenteeism costs
Employers frequently do not appear to take action until it is too late. "There are often early signs that an employee is in danger zone, this is usually not noticed by the employee himself. For the employer this entails an additional risk, because in the current labor market many employees will look around to see if the work environment elsewhere is more interesting. While with a small intervention one's own situation can be quickly improved. So this underlines that early detection pays off", says Thijs te Braake, prevention specialist and A&O psychologist at SpecialistenNet and adds: "We recently did a screening at a business service provider with 821 employees, of which 65% participated and 18% were found to be in the risk group. Three months later, 20% was found to be completely symptom-free and 45% had improved. At a healthcare facility with 120 employees, 50% participated in the screening, of which 64% was found to be in the risk group. Three months later, 43% were healthy and symptom-free. That's pretty much the average picture, in terms of success rate.".


Prevention is better than cure
Director Christiaan Prager of SpecialistenNet comments: "We investigated the impact of preventive and early intervention on dropout rates, the impact was found to be significant, and based on the results of that research we developed a new prevention strategy developed. This prevention ensures that employees in the danger zone are quickly spotted and can therefore be approached by a psychologist from our network. It is always important to intervene as soon as possible, because the longer a mentally unhealthy situation lasts, the more help is needed and the longer recovery takes. Whereas in the early stages a one-time (single session) consultation for awareness can be enough.".


B2B mental health care without waiting times
Employers have a duty of care and SpecialistenNet helps to relieve them by connecting the employee to a psychologist or coach in the area within 24 hours of registration. The company from Soesterberg does not use the regular mental health care pathways and thus offers care without waiting times. "About 250 euros per day obviously adds up when your employee is on a waiting list for six months. So an immediately applicable solution offers a solution., Prager explains his approach. That job happiness is the code word, his father and SpecialistenNet founder Emil Prager recognized more than twenty years ago. Back then, he chose to set up a nationwide network of franchise psychologists, coaches and external confidential counsellors. Several large companies in all kinds of industries and sectors use their services. Since three years, his son Christiaan continues his mission, aiming with his approach to make the market for mental care more positive, understandable and above all accessible.