The mixed team of TU Delft scientists and MBO kitedesigner Bryan van Ostheim have built a practically applicable wind energy system
DELFT - Kitepower's energy-generating kites have become an applicable energy-generating system after years of further development. Well-known Dutch sustainability experts the late Wubbo Ockels and the late Henk Hutting saw early on the potential of kites that could generate energy. Eventually, renowned kite designer Bryan van Ostheim, in collaboration with TU Delft Alumni, put the idea into practice. Bryan built a reliable system that could generate energy even in low wind conditions. Three successful pilots - in collaboration with the military and others - and 9 developed versions later, the Delft startup is ready for the next phase: bringing the first mobile airborne wind system (AWES) to market. In order to realize Wubbo and Henk's dream, Johannes Peschel, CEO and co-founder of Kitepower is a pan-European crowdfunding launched. Meanwhile, 337 investors have stepped in and over €400,000 of the €700,00 needed has been raised.
​
​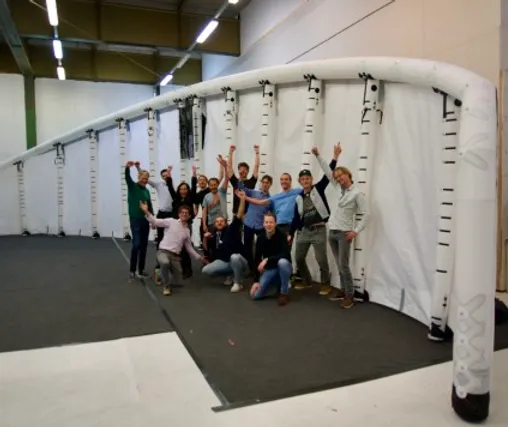 Photo: Kitepower
Founding fathers
The journey to the future of wind energy began in 1993 when Dutch astronaut Wubbo Ockels began his research into generating energy with kites. At TU Delft, he and students worked on this innovation for years. The potential was soon clear, but realizing it proved more difficult than thought. In 2007, the first working kite (20kw) was a reality and the potential of the idea became clear. Two years after Ockels' death in 2014, Kitepower was founded by co-founders Johannes Peschel, CEO Kitepower, and Roland Schmehl, Associate Professor Delft University of Technology. The company converted Ockels prototype into a kite that produces 100 kW, enough to power 150 households. In the coming years, they plan to expand to kites of 200, 300 and 500 kW.
Guru of wind energy: Henk Hutting
Thanks in part to Wubbo Ockels, the Dutch Willy Root of wind energy, Henk Hutting, heard about Kitepower. Henk was a well-known name in the world of renewable energy and immediately saw potential in this sustainable form of energy generation. As a result, Hutting became an advisor at Kitepower. Thanks in part to Hutting's advice, Kitepower has grown to where it is today. Johannes Peschel, CEO Kitepower comments:
"Huttings' confidence and advice were a huge motivational boost for the team. A common morale was created to make the world more sustainable with the use of kites. Henk became our master of persistence and perseverance. Henk was one of our greatest supporters - our own personal Churchill. With the team, we are continuing Henk and Wubbo's legacy and putting into practice their dream of generating energy through kites. With this, we are striving for an energy-neutral world." Thus Peschel
From kitesurfer to do-gooder
Still, Kitepower had to overcome some challenges. A big step in that was hiring kite designer Bryan van Ostheim, says CEO Johannes Peschel: "Without Bryan we would never have come this far. The success rate was a combination of efforts, simulation FSI, CFD, along with the latest knowledge and practical experience of kite designers Pepijn Smit, Roland Verheul and Bryan van Ostheim. Bryan had spent eight years developing kites that were usable in low wind conditions; a problem we at Kitepower often ran into as well." Bryan's expertise has made the kites a lot more efficient. For Bryan too, the move to Kitepower was a dream come true.
"Combining my passion for kitesurfing while helping to make the world more sustainable is a dream come true. People are listening to the knowledge I have been able to gain from my hobby. That makes me incredibly proud. My input is valued and therefore I feel I can really contribute." Thus Bryan from Ostheim