April 26, 2022
Roderick Veelo and Bert Brussen on the remodeling of the media landscape
In the TPO Podcast Roderick and Bert comment on the news every Tuesday and Friday. In doing so, they do not spare the news media. 'There is a lot going on in journalism: attention, fuss, opinion are becoming more important. That's not progress.'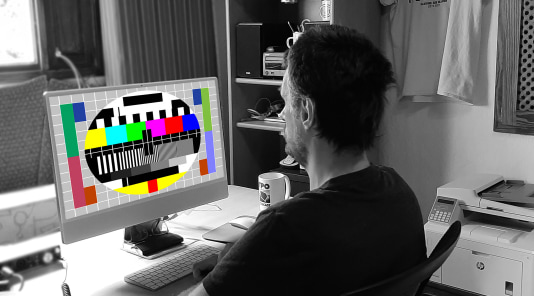 Photo: Bert Brussen
New pillarization
Bert and Roderick find that news media are looking for a target audience of people who like to recognize their own views in the newspaper they read or the media they follow. The choices made on social media are also increasingly being seen in mainstream media. Volkskrant seeks its subscribers among progressive people, the Telegraaf does so among more conservative people. Roderick: "Acquiring and retaining subscribers succeeds with the 'color' of your newspaper or broadcaster. In America, you see that big newspapers and stations are taking an increasingly clear stand: Fox News, CNN, New York Times. For or against Trump, for or against Biden. Opinion, fuss and attention are becoming more and more important. This is not progress. Yet the Dutch are more level-headed and desire less rigid positions than Americans, I think."
Fake news machine and milked-out victimhood
Bert has less faith in the sobriety of the Dutch: "Taking a stand and polarizing make money. De Volkskrant's advertising-rich Saturday edition is full of woke articles in which victimhood is milked. After all, that attracts the right buyers from advertisers. These advertisers want to appear moral through a woke image. You can see this happening at RTL News as well. A reaction to woke craziness, such as Ongehoord Nederland is in turn a fake news machine serving the conspiracy thinkers. In fact, the pillarization never stopped. Only the content of the pillars has changed."
Woke madness
A recurring theme in the TPO Podcast is woke activism and the obligingness of the rest to obey the activists' demands. Roderick: "It's an oppressive development. Woke activism is similar to religion, a cult if you will, with all kinds of dogmas about what is allowed and especially what is not. There are journalists and program makers who go along uncritically with this." Bert concurs: "It really is an ideology. With 'policor' you don't want to offend anyone, with 'woke' you choose a direction that morally measures others, canceling and excluding."
Forum voters disappointed
According to Bert, the problem of bubbles created by this colored media is not easily solved by the government, for example. Bert: "A newspaper paid for by the state will arouse distrust. NOS is already seen as fake news and propaganda by some for that reason. There is a market for niche media for people who are not waiting for moral and emotional coloring. You see that, for example, in good independent journalism like platform Follow The Money. They float not on ads but on subscribers." This revenue model is also applied by the TPO Podcast. There are two episodes every week. On Tuesdays it is available for free and on Fridays the podcast is only available to subscribers.
Roderick: "We have no advertisers, so we need not fear a woke action like a boycott of advertisers. We also don't have to adopt a specific political color or be accountable to a station coordinator. We are free and completely independent. Some listeners find that inconvenient. They first hear us criticize mainstream media and find that relatable and fun. But then we also tackle Baudet and that's suddenly a lot less fun. I know we lost listeners in corona time because we didn't go along with all the conspiracy theories. We analyze the news in our own way: pretty down-to-earth and honest. You either like or dislike that or not. We enjoy doing that, but we're not going to talk at anyone's mouth, because then the fun would soon be gone."