Durable Finsulate film protects municipality of amsterdam patrol vessels from fouling
Amsterdam, July 11, 2022 - A Damen DPV 1304 Patrol Vessel in Hardinxveld-Giessendam was fitted with Finsulate's toxin-free antifouling on Friday. Thanks to this innovative film, De NT11/ Watertrapper, the patrol vessel commissioned by the Municipality of Amsterdam, is protected against fouling for up to ten years. The ship is provided with 80 square meters of foil with tiny spines that give mussels and algae no chance. And that without burdening the environment.
​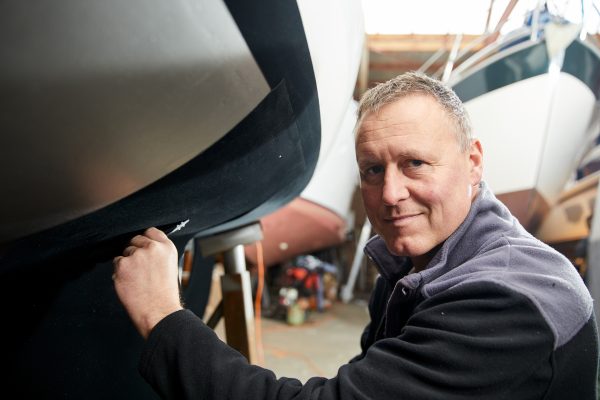 photo: Rik Breur, Finsulate CEO


Sustainable development
"As the City of Amsterdam, we choose sustainable development so that before 2025 we are sailing emission-free through Amsterdam's inland waterways. Not only CO2 neutral, but we are also looking at other emissions such as microplastics and biocides, for example, which come from antifouling paint and end up in the water," said Mike Moerman, Nautical Supervision and Enforcement (THOR) waterways inspector for the Municipality of Amsterdam. "So the toxin-free Finsulate fits our sustainability ambition perfectly and is going to help us achieve it even better and faster!"


Wrapping instead of painting
As soon as a vessel or yacht enters the water, mussels, algae and other organisms begin to attach themselves to the underwater hull. This fouling increases the vessel's resistance, resulting in higher fuel consumption and slower speeds. To prevent this, ship owners often use toxic antifouling paint, about 600,000 gallons of which enter the environment each year. Finsulate's film is completely toxic-free and also has a lifespan of up to ten years. Using a wrap instead of a paint is revolutionary, which is why Finsulate inventor Rik Breur was elected European Inventor of the Year in 2019 by the European Patent Office.


Minimal environmental impact
Rik Breur, founder and Managing Director of Finsulate, is proud of the collaboration, "It's great to see that with these electric ships the Municipality of Amsterdam is now going one step further in minimizing its environmental impact. The fact that the NT11/Watertrapper is being treated with Finsulate foil is a great milestone for us, the Municipality of Amsterdam is obviously not the first party to do so. In addition, it underlines the sustainability ambition of the city of Amsterdam and the confidence in our application. The emphasis in Amsterdam is now on electric sailing, but we show that emission-free sailing goes further than that. We have already fitted some 700 yachts and several commercial vessels in the Netherlands with our foil, and a number of them have been sailing for seven years or more without an attack. Wonderful, isn't it?"


Ten years or more
The NT11/Watertrapper will be deployed all year round during all weather conditions to perform its duties for the purpose of ensuring smooth and safe shipping traffic and during events, crowd control on the inland waterways of Amsterdam, the Amsterdam canals, the IJ, Buiten-IJ, IJmeer, IJburg, Markermeer and waters of Weesp. The vessel is 13.5 meters long and equipped with a single 130kW electric motor, powered by an EST-Floattech battery pack of 273kWh. Its top speed is 16 mph and at an average speed of 6 mph it can patrol the waters of Amsterdam for well over a full day before needing to be recharged. This is the fifth vessel to be delivered by Damen Shipyards to the Municipality of Amsterdam. The vessel will be launched in mid-January 2023. The Finsulate antifouling film the ship has been treated with will last at least seven, but more likely 10 years or longer.