FROM FACILITATING SMOKING TO ENCOURAGING HEALTHY BEHAVIOR
Amsterdam, October 2020 - By 2040, the Netherlands wants to be a smoke-free country. Therefore, as of this month, all Dutch train stations are smoke-free. ProRail came up with a green, healthy and environmentally friendly alternative to the smoking posts at the stations: a transformation into a charging post for e-bikes. Amsterdam-based Lightwell is responsible for its development and presented the charging post last week during the Dutch Design Week.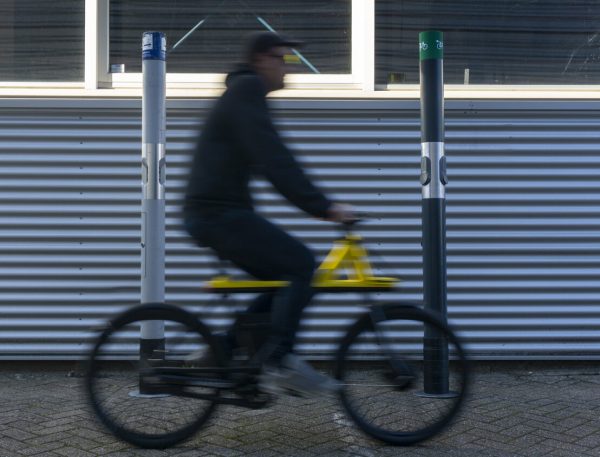 Photo: Lightwell, stock photo
​
Upcycling old materials
Designer Florian Mesch of Lightwell, which specializes in smart city solutions, thinks it is a striking example of upcycling, where old materials are given a new, sustainable function. "Lightwell is always looking for ways to make such a second cycle possible," he explains the company's philosophy. "With everything we put on the market, we think about longevity. Most of our products last at least 20 years. Because we cannot possibly predict at this time what will be needed then, we build all our smart city products in a modular fashion. Every part and function must be adaptable to the needs of the time. This ultimately makes products last longer."


Less inconvenience for train passengers
With completely smoke-free stations, ProRail and NS are meeting the wishes of the vast majority of travelers who experience nuisance from smoking fellow travelers. In this way, ProRail and NS are also contributing to the goal of a smoke-free generation in 2040. Not only hundreds of smoking poles, but also ashtray tile grates and signage were removed and stored. Reuse of these discarded materials fits perfectly into the circularity vision of ProRail, NS and Bureau Spoorbouwmeester. In total, this involves materials from some 400 stations with some 2.5 million visitors daily.


About ProRail
For rail operator ProRail, sustainability is an important strategic pillar. Rail is one of the most sustainable forms of transport. By enabling more sustainable mobility, ProRail wants to contribute to achieving the international climate goals. In doing so, it is important that ProRail as an organization also works sustainably itself. By encouraging the reuse of materials, ProRail is working towards a fully climate-neutral and circular railroad infrastructure in 2050. Prorail.nl


About Lightwell
Lightwell is a hardware systems integrator and manufacturing company. It looks at available technology and analyzes what the trends are. From there, Lightwell designs a product that responds to these long-term projections, creating space for partners to realize all available and desired Smart City ambitions through technology. In this way, the Dutch company is shaping the world with integrated charging solutions that connect seamlessly to the society of today and tomorrow.
Lightwell produces in the Netherlands and offers people with a distance to the labor market a workplace in its factory in Almere. The Amsterdam office is the base of operations where plans are devised to help municipalities give practical substance to their green and future-proof ambitions. For more information Lightwell.eu.