Immersive Tech Week (ITW) wants digital innovations to be used to solve societal problems
ROTTERDAM - The Immersive Tech Week (ITW) will take place this year, after 7 years in Amsterdam, in the modern metropolis of Rotterdam. From Nov. 28 to Dec. 2, 2022, "De Doelen" will be transformed into a place where creativity, innovation, business, research and art come together with augmented reality, haptics, web3, metaverse, technology and virtual reality. The event with 150 speakers, a trade show where companies display their latest innovations, 100 organizations present and over 2,000 visitors unites different parties and disciplines. Visitors are invited to experience applications on the ITW Playground and in the Church of VR. During ITW, technical solutions will be discussed for healthcare, creative industries and education, among others.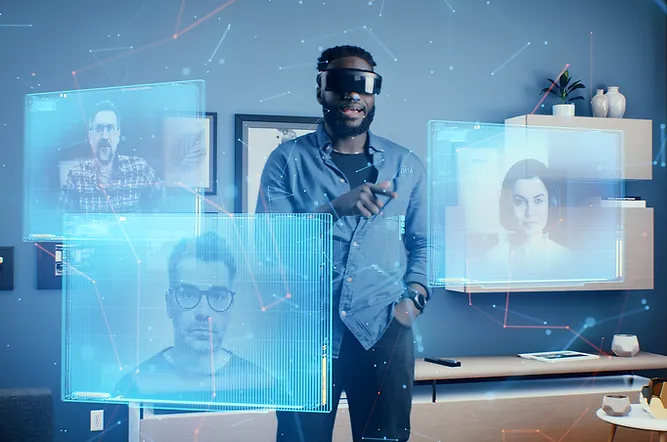 Photo: Immersive Tech Week Rotterdam
​
The digital city of Rotterdam
In the near future, virtual and augmented reality will play an increasing role in helping to solve societal challenges. On Tuesday morning, for example, there will be a session in collaboration with the City of Rotterdam, the Province of South Holland and the Sharing Cities Alliance on challenges and opportunities for cities looking to accelerate digitization. In addition, Rotterdammers are invited to share their concerns and expectations about the impact of immersive technology on their city and lives during workshops hosted by Rathenau Institute.
Opportunities and risks
During several sessions, in addition to the positive aspects, the risks of, for example, discriminatory algorithms and facial recognition software will also be highlighted. Questions such as: how can we ensure that children and young people can move media-wise and safely in immersive worlds such as games, VR experiences and the metaverse will also be discussed with Network Media Literacy? Founder and director of ITW, Benjamin de Wit, comments: "Immersive Tech Week means more than boosting Virtual Reality. Immersive Tech has incredible potential, both positive and negative. As an industry, we must ensure that the technologies are used in a socially social way."
Viewing lung scans with VR glasses
At Rotterdam's Erasmus MC, lung scans are viewed using VR glasses. Previously, a large part of the lung had to be cut away during surgery, but today, thanks to current technology, the surgeon gets better insight into the location of the tumor and the patient retains more lung capacity as a result. This is one of the developments that Rotterdam intensivist Diederik Gommers, one of the speakers at ITW, is proud of: "Within Erasmus MC, we are always looking for innovations that improve our healthcare. The possibilities offered by tech are endless but still in their infancy. By focusing on medical innovations and their implementation, we may be able to cope with the ever-increasing demand for care despite staff shortages."
Education and responsible use
Immersive tech is now being used in several teaching programs at the Rotterdam University of Applied Sciences, for example in healthcare training. Students gain practical experience by using VR simulations. The Hogeschool Rotterdam also partner of ITW is present with, among other things, a design competition, student presentations and an exhibition of special technological applications.
.