InnovationQuarter and Up!Rotterdam bring international talent to Rotterdam
ROTTERDAM - InnovationQuarter, in collaboration with Up!Rotterdam, is launching - on June 1 during Upstream's Talent Day - a new English-language platform to attract international talent to the Rotterdam metropolitan region. The launch will be facilitated by Upstream in Rotterdam. It is a new step in attracting and retaining international talent in the Netherlands. The InnovationQuarter platform was created after input from the Rijksdienst voor Ondernemend Nederland (RvO), coworking community Cambridge Innovation Center (CIC), Up!Rotterdam and talent managers from several companies.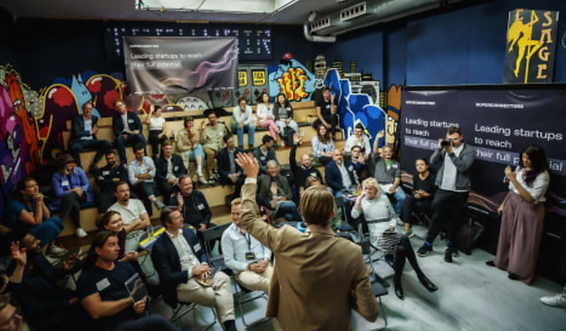 Photo Upstream 2022: Bart Heemskerk
InnovationQuarter Job Board launch
One such initiative to attract international talent is the launch of the job board; an initiative of InnovationQuarter and Up!Rotterdam. It is an important milestone in the South Holland international Talent Attraction and Retention Program. It is implemented by InnovationQuarter and supported by a wide range of regional partners, including Up!Rotterdam, RVO, Rotterdam Partners, the International Centers and knowledge institutions & hubs such as CIC, Yes!Delft and The Hague Tech.
'The jobs offered on the platform are mainly aimed at start-ups and scale-ups, SMEs, multinationals and government agencies. The new platform is one of the ways InnovationQuarter is working with other parties to attract and retain international talent in the Netherlands.' Says Sasja Heijman, InnovationQuarter
June 1: Upstream Talent Day
The third edition of Upstream (2,500 participants) this year - on June 1 - is entirely devoted to the theme of Talent. Together with speakers, startups, scaleups, investors, RVO, CIC and InnovationQuarter we will zoom in on topics such as attracting and retaining international talent. The main question is: what can the Netherlands do to become and remain the hotspot of Tech talent in Europe?
6th place world ranking
The Rotterdam-based innovation hub Cambridge Innovation Center (CIC), brought over from America, is also focusing on attracting international talent. As a community for start-ups and scale-ups, CIC seeks to improve the business climate and innovation strength in the metropolitan region. Together with the RFO, CIC is a forerunner in this field. The government also sees that attracting young talent leads to a sustainable establishment of entrepreneurs in the Netherlands.
`Currently, the Netherlands ranks sixth worldwide when it comes to talent development. If the Netherlands wants to maintain this position, initiatives like those of InnovationQuarter, RVO, CIC and Up!Rotterdam are incredibly important.` Thus Lars Crama, private lead Upstream.